We don't agree with John Wannamaker, we know which part of your advertising is working and where.
Data-driven Advanced Linear TV is one of the fastest changing areas of media delivery. So what can you expect?
Detailed knowledge of audience segments and custom locations beyond the DMA

What media providers can extend your reach and at what cost

Transparency to the network level; validation of which planned/bought premium channels the ads appear, and associated measurement.

And in order to validate your ad spend, start with a custom audience.
The way we see it, your marketing success—before, during and after a campaign--comes down to a simple goal (aka your KPIs): "'what do you want to make happen with this ad campaign?" The first step toward achieving success is acknowledging—targeting--your audience or prospects. The KPIs defined for your brand are a big part of the attribution
process and drive the next step, helping guide Centriply when choosing one of our identity graph partners.
What's the difference between targeting and attribution?
Targeting asks: who's your customer?
Attribution asks: what happened when a customer was exposed to an ad?
And more importantly: what action did an exposed prospect or customer take after seeing your ads?
For example, our partnership with Claritas allows us to access their decades of da
ta and expertise with audience identification, developing either custom segments created specifically for your brand, or using their pre-pre-built segments centered on lifestyle, investment, device use and other behaviors as well as cultural demographics. Then it's on to the creative step.
Once the creative has been finalized, it's time to apply the data segments. We connect to multiple identity graphs to find the right audience locations, and buy the right air time to get your message into the right programming and daypart. Next, Centriply buyers and account pros make sure the schedule calls for the right weight to get the frequency of exposure that will deliver desired reach, and then use our historic pricing data to create a "value target" on the cost to that audience. This applies a factor to the price, allowing our automated inventory buying platform to choose an optimized schedule.
How do we coordinate and track thousands of media providers and blend it all together to make a cohesive campaign? Our proprietary tech makes it possible for full stack video comparison with audience-driven TV campaigns, measured by impression delivery into each area. Our tools allow us to look at all the options, so we can provide an unbiased plan to achieve the greatest impact for your TV dollars. Justin Keck, Centriply Group VP notes " Our ability to use the same 1st party audience data segments from a brand's digital campaign with viewers of linear TV represents ease for campaign planners, and provides a cohesive, transparent solution to clients. By reducing waste and increasing impact--while also greatly extending reach—this ability sets us apart from other media agencies. Having the same audience segments as digital planners at our fingertips makes the view of the market before and after the campaign much more complete."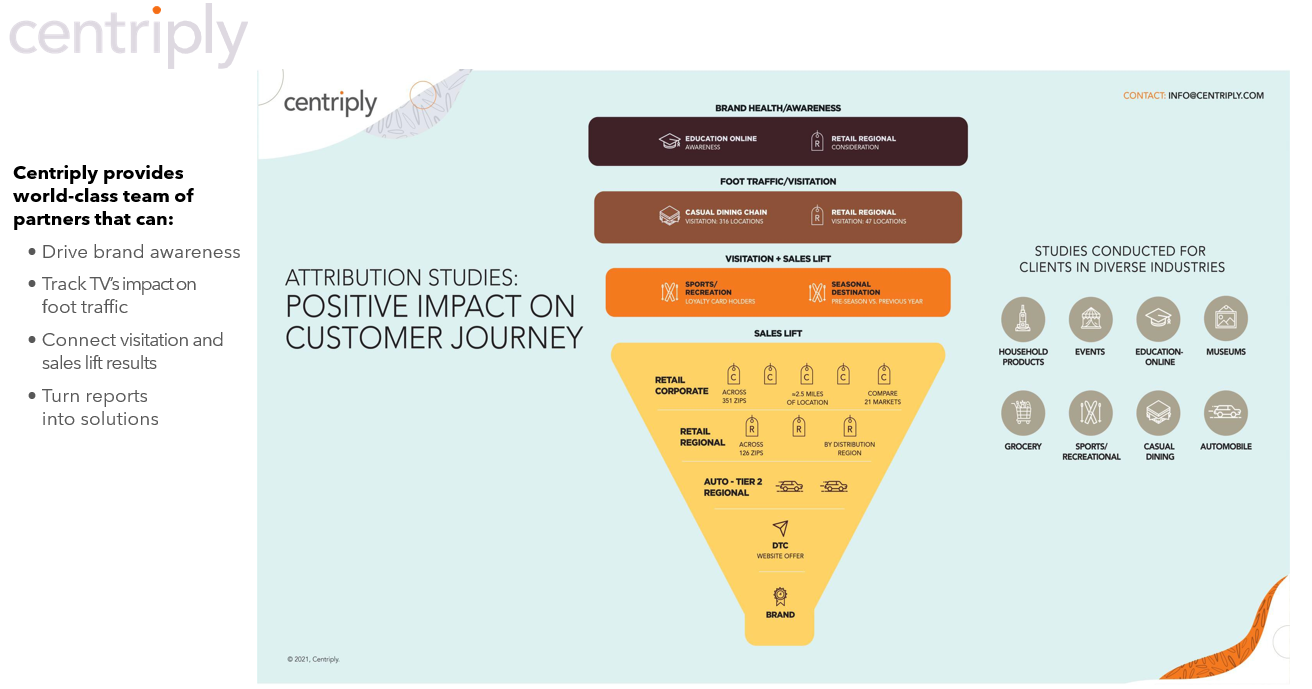 What Does Attribution in TV Mean?
We define attribution as counting the number and location of households exposed to a commercial, and after the campaign runs and in conjunction with your resulting metrics, measure the response, tracking performance at the ZIP Code level. Our measurement and attribution for data-driven TV is often done to the ZIP Code level and in many cases to the household—highly effective KPI tracking, although some advertisers aren't sure where, or how, to place this information into their marketing plans. "Offering a variety of sales lift, foot traffic, and brand health study options sets us apart from other buying services and ad tech." says Rich Kaufman, Centriply's VP Business Development. "Being able to validate marketing budgets spent in local linear TV shows the impact TV has in the whole marketing stack." Engaging with us early in your planning process means we can walk you through it all, can advise you on best options for TV ad campaigns, and can just simplify your life when it comes to hyper-local multi-market linear TV ad campaigns.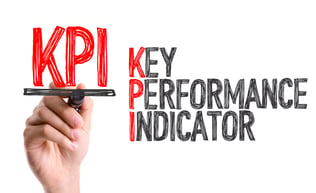 Knowing exactly where and when ads run, along with how many impressions they achieve, enables us to mark the window of the campaign flight, and follow the actions taken by the audience during that time--or afterwards. KPIs will be different for different brands; for example, growing ecommerce activity, website visits, or increased inquires to a call center to name a few, with activity increases related to the campaign tracked over a weekend, over a month, over a quarter, or over an entire year. You can measure the fluctuation of purchases or sign ups, then re-optimize a campaign to create a successful feedback loop and ROI (more on re-targeting below). This is why Centriply customizes each campaign flight for each client—for us, one size does not fit all when it comes to targeting, outcome measurement and KPI satisfaction.
Timing
Here at Centriply, we consider your media buys this way: data goes into the process, the campaign flight runs, then information comes out of the process. And in reality, audience response timing varies from very fast to having a much longer tail—ranging from only a few days for seasonal sales events (like 4th of July), to one hour for VOD purchases, to a lag time of two weeks for larger, complex purchases, as some examples. During set-up for the first flight, when historical data is needed, various segments are applied--or you could tap into your existing mobile/social data. Using a 360-degree approach, we start with data segments (see figure below). Here, two types of data can be applied, separately or in combination: 3rd party historical (such as Claritas data), or 1st party (your own mobile/social, sales receipt addresses, or mailing list ZIP Codes, for example).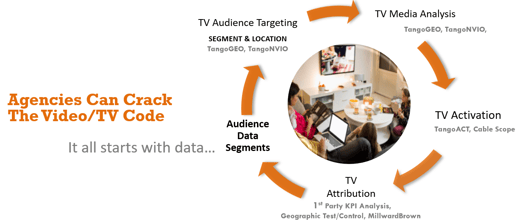 Moving through the cycle, we apply that data to locations to find high value customer segments. Next, we match it up with appropriate content in an automated pool of inventory that contains over 605 million impressions/week, with options around the country at the price we want to pay. Because of our proprietary tech, at this point the market does not know what we are interested in. Since we've been doing this a long time, we've tracked thousands of systems and millions of spots, and have our own trending historical data that lets us know where the campaign will be appropriate and where we can buy at an advantage--and sometimes, where it's just not worth it. Once that's determined, the last piece of this process happens when our technology platform, Tango Media Suite, generates an Insertion Order, and off your TV ad campaign goes on its merry way.
Looking for a brief intro to attribution study considerations?
Our "It Depends" video gives you the basics, in just 2 minutes!
The Importance of Re-targeting and Attribution
Once we've completed one or more campaign cycles, data can be augmented by prior results to deliver even more impact to your TV ad campaign, commonly referred to as retargeting. Back to the figure above, at the bottom of the circle you see Attribution and Re-targeting. This is where we look at what happened when a consumer was exposed to your ad. Increased website visits? More event tickets sold? And so on, based on campaign KPIs.
While we utilize it throughout our entire process, audience-driven campaigns are where Centriply brings some unique data to this process, including mapped out Census counts down to the census block level (over 331 million people as of 2020), overlaid with more than three thousand MVPD footprints with matching 41,000+ zip codes underneath and the universe numbers for each area. Whew! And that's just where we start. Our experts combine that data with more than 85 different networks with commercial breaks and historic pricing data, to compare and choose the best options. It goes without saying that we also bring in all the standard Nielsen demos, Claritas categories and other data sources, in order to get the fullest picture and drive best possible outcomes.
All that combines to create plans that give you the best advantage when deciding where to put TV ad campaign dollars. We'll show you what the media options in an area can provide and how they compare to each other. If 1st party data is available, great! But even if the only information available is the physical address of a single business location, we can supply an analysis on what TV options are available in the area. If you're a large-scale advertiser, you can consider brand health studies to measure even more. Since we don't sell media, we consider ourselves an asset and marketing ally as we look at all the options and provide an unbiased plan to achieve the greatest impact for TV ad dollars.
Centriply alleviates a marketer's pain point of cross-media target integration by using the same audience segments
from digital campaigns to find target segments on TV. By tracking benchmarks for TV,
we know performance marketing is a reality and that's what our company is built for!
TV ad campaign attribution and measurement of media performance significantly increase media impact—and campaign efficacy--to the target locations and audiences. Easily aligned with other data-supported business goals, linear TV attribution with Centriply allows you to expect more from your TV budgets by focusing TV weight where it will have the greatest impact on business outcomes. So the next time you're considering data-driven TV and wondering if we can "do" post-campaign attribution, remember these words of wisdom from Rich: "Yes...now let's take a look at what works for you."
Want insights on TV Attribution by ZIP? Check out our webinar replay for more!