Targeted TV specialist Centriply, announced a collaborative effort with Experian to help brands maximize their linear TV campaigns. The agreement between the two integrates Experian's ConsumerViewSM audiences with prospects and TV inventory data, brands can create meaningful interactions with valuable TV audiences at the household, local or national level.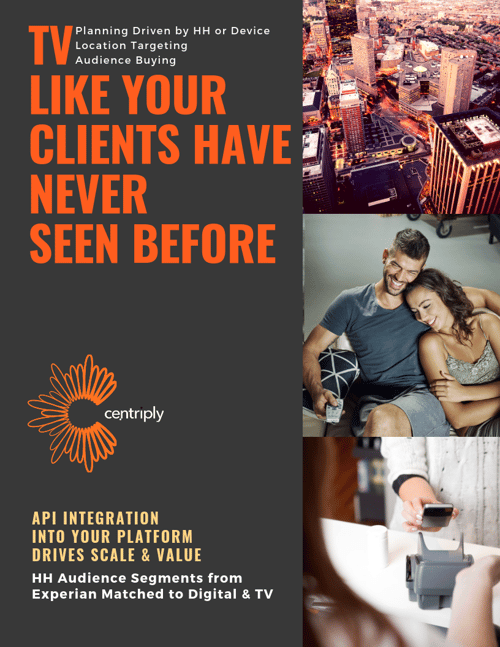 Agencies and brands can use GDPR compliant HH level targeting,
with the scale of Linear TV to reach audiences for growth.
Tying anonymized data and brand safe TV inventory together enables planners to identify the most valuable TV audiences with precision at a household, local or national level. Paired with digital campaigns to create a common ground for growth and profitability, the additional scale of Linear TV can create the extended reach, and impact, that brands and advertisers are seeking.
"Our goal is to unify the power of data by supplying the means for brands and agencies to quickly and easily target customers. By applying the same audience segment across TV and digital campaigns, the effect of a brand's message is compounded and consistent." stated Jeff Lewis, Director of Product Development. "We aren't trying to monetize the publisher's inventory. We sincerely want to put buyers in the driver's seat when considering what is best for their brand. Not just the audience that is good for the network or show."
Safe, cross screen application of de-identified audience data segments intensifies the impact of a campaign, HH level data drives planners to compare inventory, viewing patterns, and location while Centriply compares costs for the best media opportunities. "This is all part of our effort to bring a 'frictionless' planning process into the media buying marketplace. We have significant investment in our technology, and our staff, who look forward to bringing the benefits of cross screen data and metrics to our clients." Lewis explained.
"Presenting a data-driven approach is paramount to a cohesive solution for clients that reduces waste and increases impact while extending reach. With premium inventory choices from 600 million impressions a week, the scale of solutions that can be delivered to our clients with speed and accuracy is far beyond just CTV. This speeds the planning process by having these segments at our fingertips." said Leslie Holasek, EVP Media Services. "Our ability to deliver precise and actionable analysis of the potential performance of TV inventory, gives our clients many options. They can be creative and respond with leading edge tactics that are unique in this arena. This intuitive platform puts planners in control so they can consider opportunities, while retaining the data segment values through the buying stage."
"We're pushing our platform to provide answers to the question; what does the potential of TV look like in the future? Centriply's Targeted TV marketing will improve the experience and abilities of planners and buyers of media all across the TV industry." Holasek concluded.
This integrated service paves the way for even more layers of information to be applied to audiences, location and inventory with accuracy and richer detail than can be achieved with traditional approaches and at a scale that adds to addressable and OTT. The Centriply team is pushing to accelerate the transformation of cross screen marketing.
Consider us a TV Audience Search Engine. Just click the orange button to request your own Targeted TV report with HH Audience segments.
To become a partner, or request a demonstration, contact Rich Kaufman, rich.kaufman@centriply.com