Let's Talk Audiences—Or Rather, Audience-First Thinking: Why Audience-Based Buying Is Putting Wind in Linear TV's Sails**
What's better than Fall days in San Francisco? Spending some of it at the TVOT SF '22 Show!
Centriply was pleased to sponsor a TVOT panel showcasing the successful use of audience-driven TV, in this Hot Topic session. Using the same ID-level audience segments for linear TV as other media channels (digital, CTV/OTT, etc.) isn't a future promise, it's how we do TV ad campaigns today. Looking at this from the buy side, being able to take an audience segment and connect it to a location—and the TV media attached to it—boosts a brand's capacity to tap into linear's expansive scale and reach, bringing even more value to media strategies and plans.
Watch the video here: https://itvt.com/televisionation/audience-based-buying-at-tvot-sf-2022/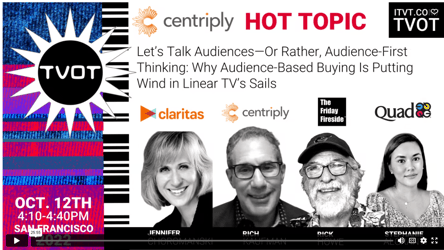 From the media-owner side, inventory becomes more valuable (without changing it) to more clients when you can use the same audience segments they're using for other channels, making it easy for clients to say "yes" to you. And on the back end of a campaign, just like with digital, this capacity unlocks household-level outcome reporting and attribution to ad spend, enabling reliable analysis of budget spent on TV.
This 26-minute session, moderated by TV veteran, Rick Howe (aka The iTV Doctor), explores why advertisers, armed with loads of audience data, are upbeat on TV's capabilities to reach desired audiences beyond traditional demos—and linear in particular—once again.
Panelists include:
Jennifer

Choromanski, VP of Business Development, Measurement and Attribution,

Claritas
Stephanie

Algranti, Director of Broadcast Media Solutions,

Quad

Rich

Kaufman, VP of Business Development,

Centriply
Rick

Howe, The iTV Doctor (Moderator)
A *big thanks* to all the sponsors, moderators, speakers, attendees and staff who made TVOT SF 2022 such a success!
**Permission to repost granted to Centriply by TMRW Corp./The TV of Tomorrow Show (TVOT)