Considering using TV? As an introduction to our Targeted TV services, Centriply provides a location analysis package that reviews media potential before any commitment.
Improve brand awareness, increase sales, raise brand trustworthiness,* and receive tracking of ROI of your TV campaigns
Download our quick 4 page Guide to Getting Started in Targeted TV HERE.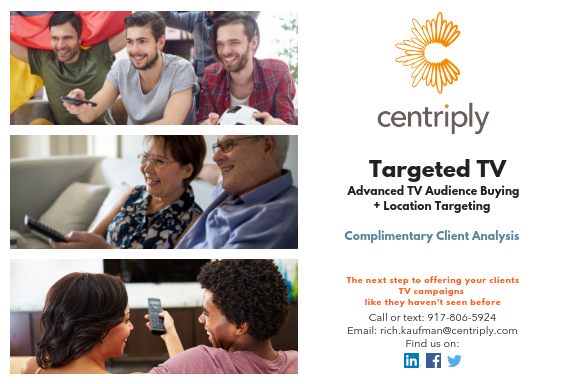 What can you expect to get from us? Since we're an independent media agency that specializes in data-driven Targeted TV it means we do advanced TV audience buying using the same programmatic data segments as a digital campaign (Experian, LiveRamp) and then add location which allows us to go far beyond connected TV. Having access to over 600 million impressions a week in over 3,000 zones to create the kind of scale & impact brands need.
You can expect: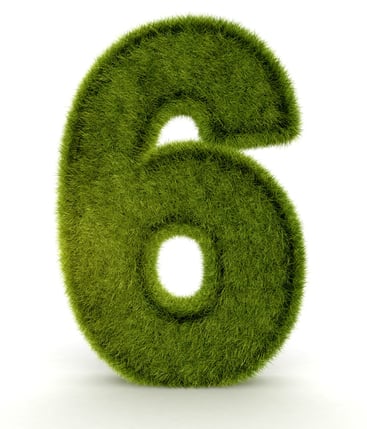 1. TO KEEP YOUR DATA SAFE:
Your data and confidential business information is a primary concern for us. We protect your info from the marketplace. If you require an NDA, we are happy to sign one.

2. CHOOSE CLIENT AND BRAND AUDIENCE SEGMENTS:
Load prospect lists from 1st party data or 3rd party data sources.

3. KNOW WHERE YOU NEED TO BE
The maps supplied can consider drive time to a location, high value ZIP Codes, specific counties, or states containing over 2,000 locations.

4. KNOW HOW LONG SHOULD IT RUN:
Two weeks to one year, effective reach is proposed with the analysis.

5. RECEIVE PROPOSAL:
Once communication goals are decided, the Targeted TV platform focuses on programming choices and dayparts.

6. BUDGET:
How much should you spend? That depends on the area and demo. We provide comparable CPMs and reach for the segment.

7. TIME TO REVIEW PROPOSALS:
Within five days clients can consider the possibilities of what Targeted TV can do.
We'll give you an unbiased view of what can be effective for each campaign. Blended Digital and TV CPMs can produce solutions that succeed.
Find your audience with TV campaigns that use what your agency already has, the digital data and metrics to create an integrated TV plan.
Download this easy step-by-step to successfully enter the world of Targeted TV.
*Nielsen Trust Report