Connecting TV campaigns to immediate revenue growth is one of our client's favorite things about using Centriply's advanced targeted linear TV platform.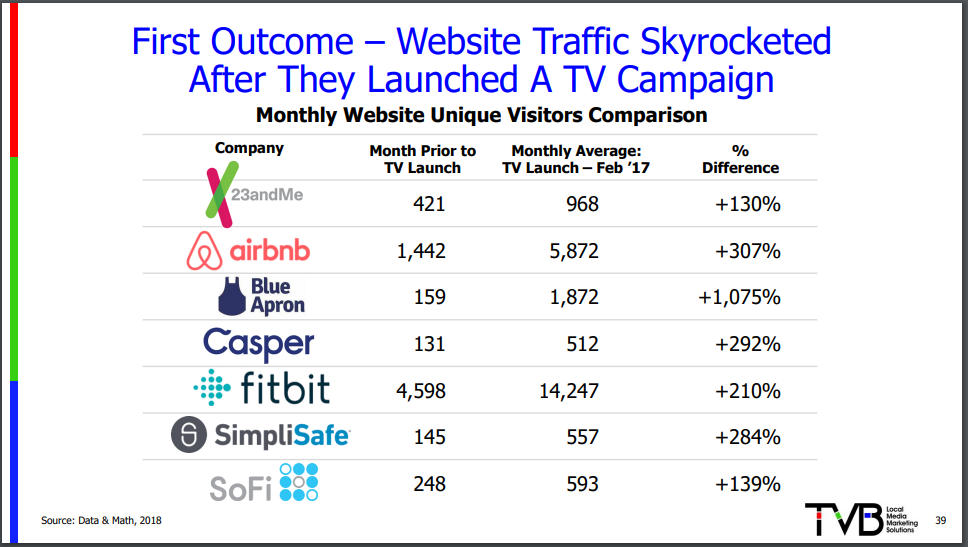 Like many of our clients, this impressive list of brands had great success after using the power of TV. It's been regularly proven that we are often the critical element that allows them to overcome in competitive mature markets and create breakthrough impact at scale.
Mark Ritson wrote a very in depth article about the power and trends of TV last month. Sighting Ofcom's latest data yet again shows why TV should be at the top of most big brands' media plans, some marketers insist on ignoring the facts, he answers their most common quibbles. While this report focuses on the UK TV market many of the findings parallel what researchers are seeing in the US.
James Hercher wrote in Adexchanger Why DTC Brands are Flocking to TV. He mentioned that Direct-To-Consumer brands see growth as key. In order to achieve the increase in demand you need, it's important to bring scale to your advertising effort. "DTC brands are bringing a new testing and optimization ethos to television." We love it!
If you are looking for more research, the TVB also has done many studies, which can be found here: https://www.tvb.org/Public/Research.aspx.
To help you break through here are 6 steps for to help you decide if advanced TV advertising is right for you. This list touches on some decisions that we've seen companies face over and over. The effective CPM for linear television inventory can be much lower than digital video or streaming, once a brand has established baseline metrics for how TV impacts site visitors and conversion rates, Chang said. Startup brands with strong online attribution tech are supporting higher prices for TV ads, she said.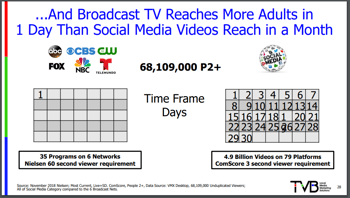 FIND HIGH VALUE PROSPECTS:
Choose a list from your CRM, Census, Experian, LiveRamp or a standard Nielsen demo. We'll match it to TV audiences.
CHOOSE YOUR KPIs:
We set up the ROI loop with performance based metrics like:
website traffic, sales lift, or phone inquiries.
DO YOU HAVE LOCATIONS?
Consider drive time to stores, customers in certain ZIP Codes, or do you need to know county boundaries, or be within state lines for regulatory reasons?
DECIDE TIMING AND FLIGHT EFFECTIVENESS:
Is there a specific time to drive sales to one location? Is there an event you would like to promote? Do you need a national rollout, or to focus on a several regions? Is seasonality important to your products?
EFFECTIVE NETWORKS INDEXED:
Viewing indexes and ratings against the programming is applied and matched to the segment with programming choices and dayparts.
CROSS SCREEN BUDGET:
How much should you spend? We ask the important questions: what are your communication goals? Too little exposure is ineffective. Studies have shown a frequency of 5+ is required for breakthrough awareness. Request a Advanced Linear TV Planning Allocation Demonstration to see all your options..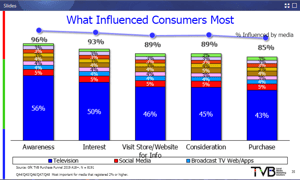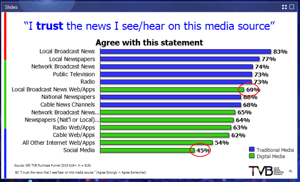 When you're ready to set your communication goals you can consider advanced linear TV campaigns as a powerful way to increase growth quickly.
https://adexchanger.com/digital-tv/why-dtc-brands-are-flocking-to-television/