On the first day of Christmas my Advanced Linear TV campaign gave to me...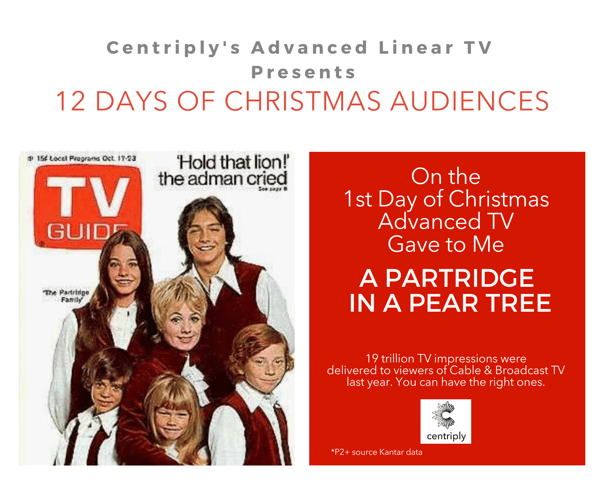 A BLAST FROM THE PAST
Looking for families with young children this holiday season? "The Partridge Family" is a good fit for all audiences,
Are your customers in full shopping mode? Are you trying to reach young family audiences, that have purchased musical instruments AND have an income of $55K+ AND have a HS education AND live within 5 miles of a specific retail location?

Your brand's message can be in wholesome, brand-safe programming on appropriate networks, appearing in households located where they need to be on linear TV and then measure the budget back to sales, or foot traffic.

As "The Partridge Family" would say, "There's nothing better than being together!"
Ready to hum a few notes? How about my favorite, "I think I love you!"
On the second day of Christmas my Advanced Linear TV campaign gave to me...

Oh what fun!
End of the year holidays are the biggest time for announcing engagements. Maybe it's the mistletoe, sentimental music, or just the spiked eggnog.
In 2018 there were over 2.2 million weddings. Nevada and Hawaii rank top two in highest marriage rates in the US. There's nothing like a wedding during the holiday season.

Brands and marketers who are looking for registered couples who are in Nevada, AND are purchasing furniture AND looking to travel abroad? Advanced Linear TV campaigns can find them.

An Experian audience segment and an Advanced Linear TV campaign can find them and keep your brand top-of-mind during all the happy stages of life together.
Looking for a new house, AND a new mortgage AND a new credit card? Advanced Linear TV campaigns can find them.
Find engaged couples and newlyweds where and when they are most interested in making preparations for their special day.💍💒🤵👰 💒 👰👰 💒🤵🤵
On the third day of Christmas my Advanced Linear TV campaign gave to me...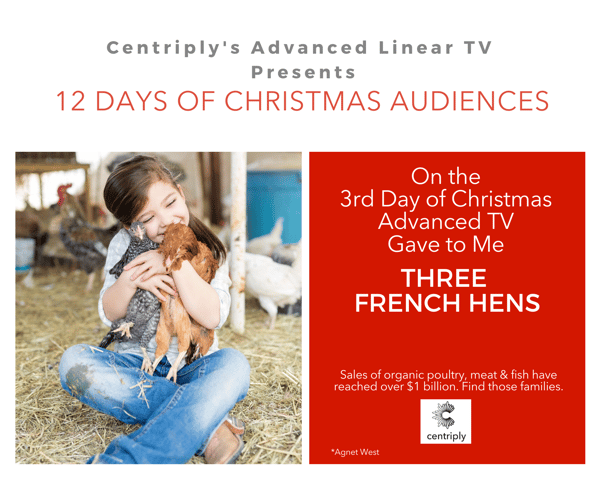 ORGANIC HEALTHY MEALS
Thinking of holiday dishes? Us too! We're searching for the perfect recipes for the holiday season, just like we're searching for the right audiences for all of our clients! Have a specific audience you're trying to reach? Eating together is what families do over the holidays. Advanced Linear TV campaigns find those families that have purchased over $1 billion of organic poultry, meat and fish annually.

AUDIENCE INSIGHT: When planning and preparing for meals, most shoppers travel a maximum of 3 miles for food supplies. We help grocery stores know how many prospects are within that drive time radius & measure TV impressions delivered. Giving brands and retailers reach, frequency & impact, tracked to sales.
On the fourth day of Christmas my Advanced Linear TV campaign gave to me...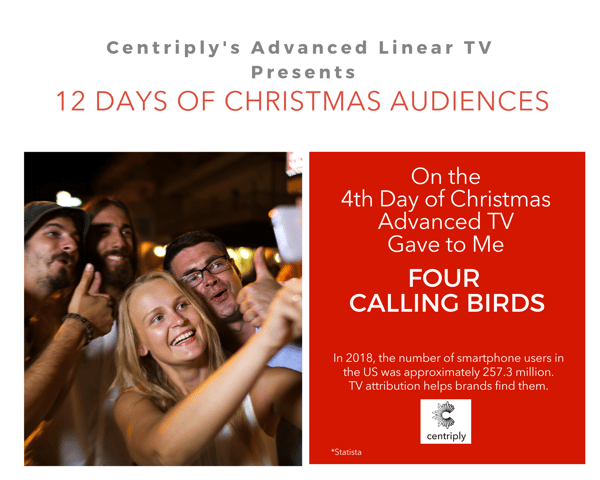 THE LATEST iPHONE 11
Need to be part of the smartphone wave? Thanks to all of the advanced features and applications on smartphones including Maps, Photos, Weather, and even a flashlight feature, it's no wonder that in 2018 there were 257.3 million smartphone users in the United States alone. Brands looking to target smartphone users can reach them with ease through TV attribution. Whether your brand is centered on:
Smartphone cases
Smartphone manufacturing
Telephone service provider
App development/data
TV attribution helps brands to spread the word to consumers about what they do and what they can offer. Even better, smartphone users of all ages can be retargeted for your brand's content.
Advanced Linear TV campaigns keep brands top of mind and ready to conquest when prospects are upgrading, changing calling plans, or wait--did you just drop it for the 20th time? Competition among TV, internet & phone packages, family plans & data options make deciding-- tough. But TV campaigns can't help when it's time to call grandma over the holidays, did we say tough?
On the fifth day of Christmas my Advanced Linear TV campaign gave to me...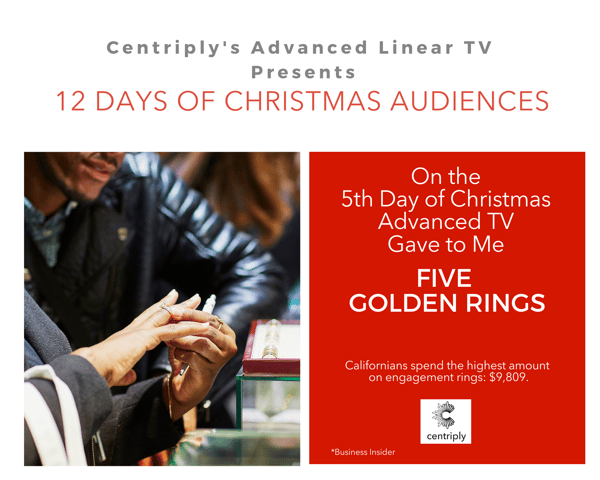 SOME REAL BLING!
Jewelry retailers know how important advertising is during the holidays, to drive customers to brick and mortar locations and web sites. Whether the focus is on ecom or increasing foot traffic, it's great to be in California, where highest average budgets for engagement rings, check in at almost $10K! That's some sparkle.💍💍💍💍💍
Advanced linear TV campaigns stay in front of prospects and provide measurable ROI on ad spend.
On the sixth day of Christmas my Advanced Linear TV campaign gave to me...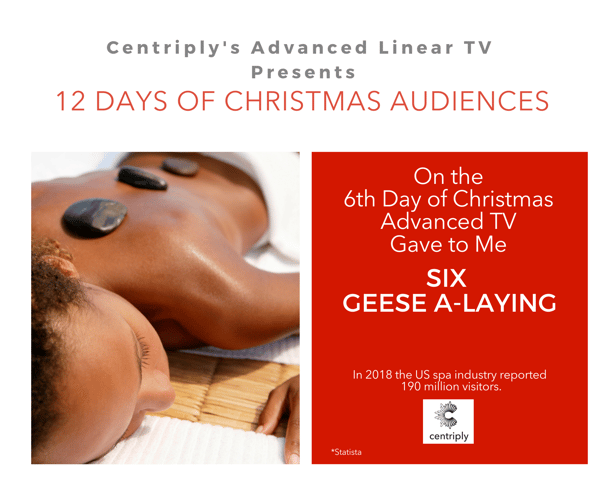 SOME RELIEF
Ahhh! Strategists and account managers can relieve the stress of holiday marketing with consistent and reliable Advanced Linear TV plans, automated granular and guaranteed buys, with regular detailed reporting, and TV attribution to households. APIs are also available for feeding other marketing platforms to create a full marketing technology stack.

No more sore spots. Remove the friction of finding the right programming, daypart & achieving your CPM goal. Experian segments can be used to find audiences anywhere in the country that are interested in services, products, trips and topics.
Now exhale...
On the seventh day of Christmas my Advanced Linear TV campaign gave to me...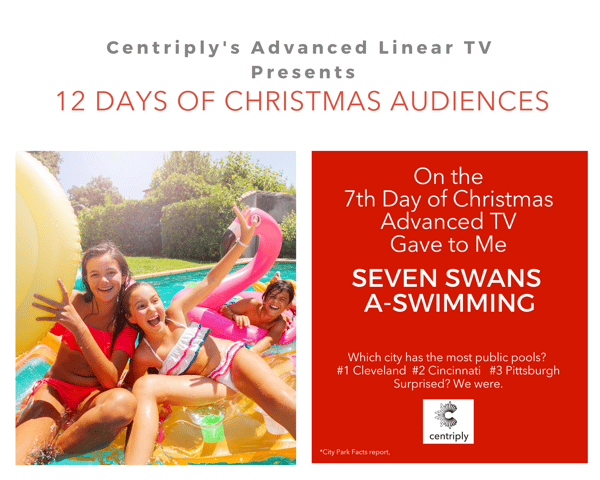 A BIG SPLASH
Jump right in to Advanced Linear TV! The water is fine and so are the ways to find pool and beach going consumers. Campaigns can reach Experian audience segments that have purchased supplies, inflatable toys, bathing suits, sunscreen or drinks to cool off on the patio with. And who would have thought Cleveland Ohio, it turns out-- is doing swimmingly! With the most public pools in the country, followed by Cincinnati and Pittsburgh.
Kow--a--bunga!
On the eighth day of Christmas my Advanced Linear TV campaign gave to me...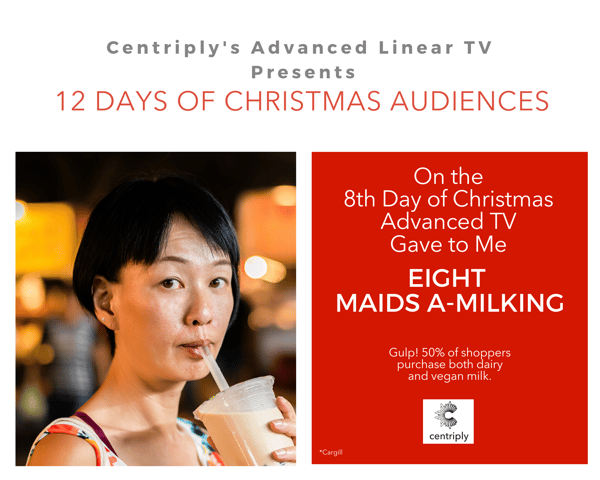 CHOICES FOR YOUR BRAND
CPG marketers compete every day to stay in front of the new trends consumers are turning towards. Changing shelf position, aggressive promotional pricing, e-coupons and offers, loyalty programs, bonus points, and new category entrants all take a bite out of market share. Advanced Linear TV campaigns can find different audiences willing to explore new products and reward brands that show value while providing constant reminders.


On the ninth day of Christmas my Advanced Linear TV campaign gave to me...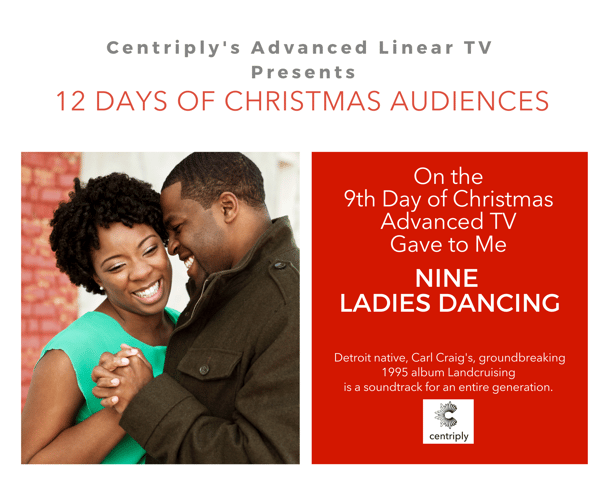 GET UP EVERYBODY NOW!
Advanced linear TV audiences support and enjoy a wide variety of music genres and live events. Knowing where tickets are sold and how far fans travel, can determine the most effective areas to spend media dollars.

Whether it's Disney on Ice, Pro Bull Riders or Nuclear Cowboyz, both local artists and national stars can reliably drive ticket sales weeks ahead of performances as they tour the country. And the team has extensive experience with political campaigns that want to apply audience segments to voter groups or donor lists. From Detroit techno of the 1980-90s to The Long Island Medium on TLC now. Everyone can get on the dance floor.
On the tenth day of Christmas my Advanced Linear TV campaign gave to me...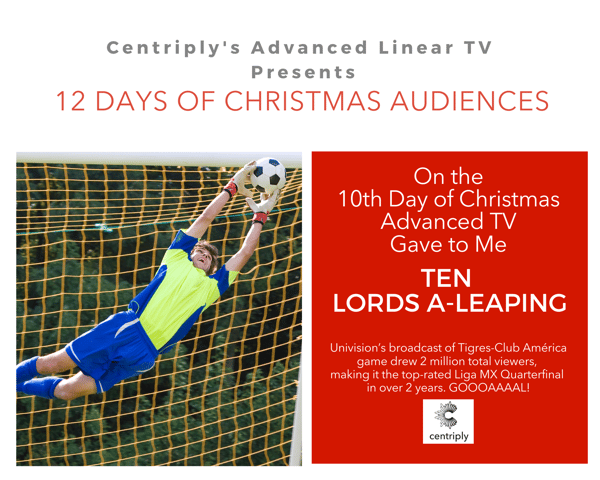 GOOOAAALLL!!
American audiences are watching more & more soccer every year. With over 11 million children & adults attending soccer camps annually, the interest in the sport is rising. Find dedicated fans where they live for "jogo bonito".

There's lots of programming to choose from & many areas of the country to find audiences, both in Spanish & English programming. Univision Deportes, reported nearly 22.2 M Total Viewers 2+ tuned in to all or part of its 91 UEFA Champions League telecasts, now the most-watched season on any network or in any language during Univision Deportes' inaugural season as the exclusive Spanish-language TV partner. In total, Univision delivered 60% of the UCL TV audience in the U.S. This marks the first time since 2013-14 that the Spanish-language telecasts attracted a higher audience share than English-language. http://bit.ly/2YIO0XN

On July 10th 2019 Fox Sports' reported total viewership, including online streaming, peaked at roughly 20M, making the Women's FIFA the most-watched soccer match on English-language TV, men's or women's, in the US since the 2015 FIFA Women's final, which delivered 25.4 M viewers


On the eleventh day of Christmas my Advanced Linear TV campaign gave to me...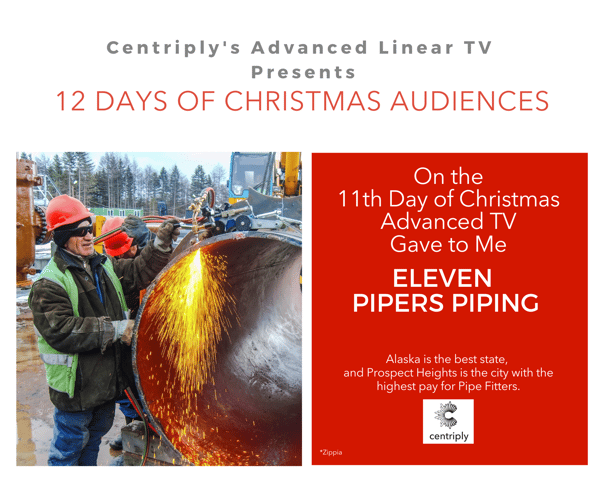 GOOD NEWS!
The US continues to enjoy a low unemployment rate of 3.6% through 2019, according to the Bureau of Labor Statistics. Almost 61% of the entire population is employed full time. And it turns out that Alaska is the best state and Prospect Heights is the city with the highest pay for Pipe Fitters.

Now employers competing for skilled workers need to have successful recruiting campaigns to keep the wheels of commerce spinning. By using Advanced Linear TV campaigns, businesses looking for employees can advertise near technical schools, within drive times and state boundaries. Advanced Linear TV reinforces social campaigns and campus marketing efforts, to ensure content and communications will showcase the brand. TV campaigns succeed in increasing searches and applicants as companies promote in-house events, along with highlighting training programs and benefit offerings.

Being in the highest paying market doesn't hurt either.


On the twelfth day of Christmas my Advanced Linear TV campaign gave to me...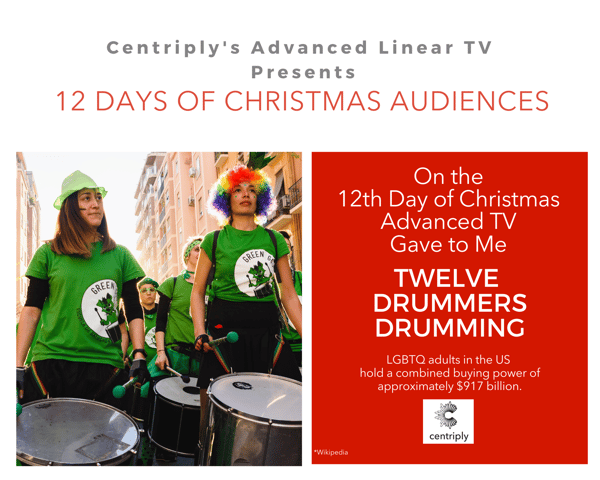 LET'S REPEAT: $917 BILLION
New research from http://Hornet.com and Kantar Consulting, shows that the LGBTQ+ market is currently the fastest-growing market right now, and is on target to grow by millions in the US in the next few years. Forbes notes: http://bit.ly/2PN8sCy with a surprising 66% of LGBTQ+ individuals saying "I don't see my lifestyle represented in advertising" and 51% saying, "I wish I could see more advertising with families like mine," one would think this is a marketer's paradise. It's a large and funded demographic who wants to be represented and that wants to do business with companies that authentically engage with it.

Here's the top 10 cities with the largest LGBTQ+ populations as reported by the NY Times:
San Francisco 6.2%
Portland, Ore. 5.4%
Austin, Tex. 5.3%
New Orleans 5.1%
Boston 4.8%
Seattle 4.8%
Salt Lake City 4.7%
Denver 4.6%
Hartford 4.6%
Los Angeles 4.6%

Could this be a new audience under your marketing tree? You're welcome.