The best and the brightest TV industry insiders give Rick Howe, the iTV Doctor, the scoop on TV next-trends.
The good Doctor chatted with leaders every week from their quarantine quarters--and each episode is chock-full of juicy information. In case you missed some or are new to the Doc's videos, we've linked to a few episodes below. But there are loads more, all featured on Tracy Swedlow's TV of Tomorrow website, so do check them out--you'll be happy you did!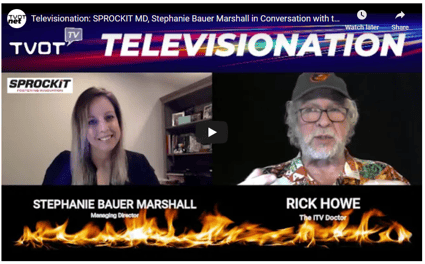 1. We are pleased to welcome Stephanie Bauer Marshall, Managing Director of SPROCKIT and Founder of M3Advisors to this week's Friday Fireside.
Her previous work in mobile advertising and data monetization at Verizon led to Verizon's acquisition of AOL. Today she works with the coolest tech from the most innovative companies on the planet. If you haven't checked out the SPROCKIT Hub at the annual NAB Show, you are missing a phenomenal opportunity to see the best and the brightest media and entertainment technology. And if you are a start-up in that space, you truly need to contact Stephanie right now and get in the game. Watch this Friday Fireside to find out how Stephanie recruits new tech partnership opportunities for SPROCKIT partners like Comcast, Verizon, Univision, Fox, Samsung, Hearst, Google and more. Stephanie also actively supports diversity in investing via Citrine Angels, a group of women angels investing in other women. Sponsored by Centriply @TVOTShow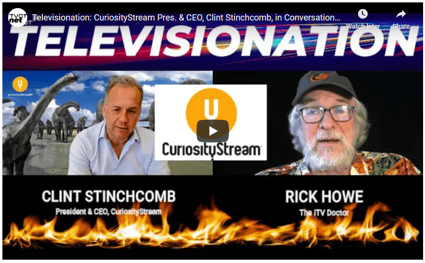 2. Our Friday Fireside guest this week is Clint Stinchcomb, President and CEO of CuriosityStream.
What are we? "the premium destination for true, pure factual entertainment." Clint clears up the mystery of the recent SPAC (Special Purpose Acquisition Corporation) investment in CuriosityStream with an enterprise value of $312 million (and an equity value of $512 million). CuriosityStream was, of course, founded by John Hendricks (founder of Discovery, Inc.), who in Clint's words "has always been a guy who can see around corners" in the media and entertainment space. Doctor's note: I was one of more than a few people who wondered what in the world Clint was doing joining CuriosityStream five years ago. But I can honestly say that he has built an extremely attractive, valuable and growing company and organization with CuriosityStream. Sponsored by Centriply @TVOTShow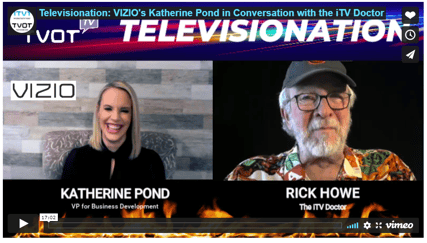 3. The Friday Fireside is proud to welcome

Katherine Pond, VP of Business Development for

VIZIO

.
Katherine describes how rapidly VIZIO is moving into the role of an entertainment company, with a base of 13 million—and growing—SmartCast Homes. She also gives us a sneak preview of VIZIO's "Unwrap the Magic of SmartCast," its holiday hub featuring a collection of special programming for customers to unwrap and enjoy every day of the holiday season. With over 200 hours of holiday-themed movies, TV episodes, music and more, VIZIO's SmartCast holiday spotlight features a wide variety of free and premium holiday streaming options including 12 days of special offers and discounts on video-on-demand movie favorites.Sponsored by Centriply @TVOTShow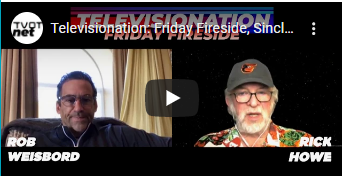 4. It's FriYAY! Fireside and Rob Weisbord, President of Local News and Marketing Services for Sinclair Broadcast Group.
If you've been paying attention, you know that local broadcast news is booming. Tip O'Neill is quoted as saying that "All Politics is Local," and certainly Sinclair has found that All News is Local as well, particularly in the Coronavirus Pandemic Era. Rob discusses how Sinclair, one of the largest SELLERS of local broadcast advertising, is taking advantage of that exploding audience in preparation for the Q3 2020 return of political and commercial advertising. Sponsored by Centriply @TVOTShow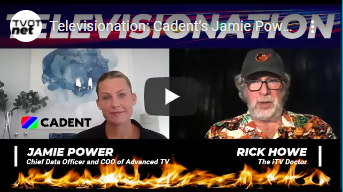 5. We are thrilled that this week's Friday Fireside guest is #Wonderwoman, Jamie Power, Chief Data Officer and COO of Advanced TV at Cadent.
In a very interesting conversation, Jamie explains Cadent's work in identity resolution (which, frankly, sounds like something involving superheroes and their secret identities), cross-platform and multi-device advertising strategies, and the art of sequential messaging through the CPG sales cycle. We appreciate her curiosity of why things work or didn't work for campaigns and how their identity graphs and data can be used effectively. Sponsored by Centriply @TVOTShow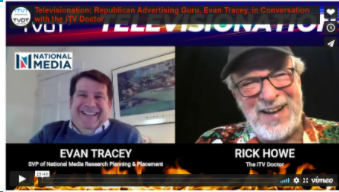 6. No matter how you voted in 2020, you need to watch this week's Fireside featuring Evan Tracey, SVP of National Media Research Planning & Placement.
Evan opines on media effectiveness on both sides of the 2020 presidential campaign, Biden's Basement Strategy (he wasn't only in HIS basement, he was in YOUR basement, your kitchen and your cell phone), the role of advertising on local broadcast news, Fox News, MSNBC and CNN, The Lincoln Project (it was designed to get under Trump's skin and get their story re-told by the media), the impact of Covid-19 on voting (both in-person and mail-in), plus the overall effectiveness of television advertising in the 2020 campaign, and casting forward to 2022 and 2024. Plus Trump's 2024 campaign (which has already started). And, who knows, will we see the expansion of sports betting into betting on political races! Sponsored by Centriply @TVOTShow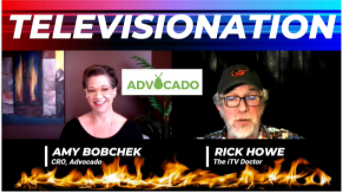 7. Let it not be said that TV isn't fun! This week's Friday Fireside guest is Amy Bobchek, cable advertising veteran and Chief Revenue Officer of Advocado.
Mixed with our chat about consumer trends, hot categories and Advocado Stress Balls (available if you ping Amy), Amy describes Advocado's fast-growing capability to connect advertisers' digital campaigns to their TV commercials (instantly, in real time), drastically improving results and increasing efficiency. She says that Advocado goes beyond attribution and influences consumer behavior during the crucial micro-moment that begins when a TV commercial airs. Sponsored by Centriply @TVOTShow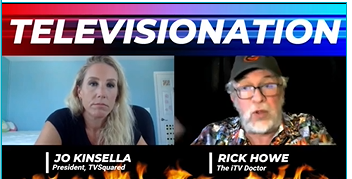 8. Pay attention: this is good stuff. This week's Friday Fireside features Jo Kinsella, President of TVSquared.
TVSquared is known as a global omni-channel attribution and measurement firm. Jo discusses their recent deal with Sky, her belief that Covid-19 has focused the television industry on ROI, and the possibility that the retreat from bricks-and-mortar retail (in favor of virtual) could actually make it easier for consumers to make a "buy" decision immediately after seeing an ad, and for the advertiser to finally have proof of that fact. And TVSquared also has a product that measures the cumulative effect of advertising on the purchase decision. Sponsored by Centriply @TVOTShow
9. Taking America by storm, Friday Fireside welcomes Rose Adkins Hulse, Founder and CEO of ScreenHits TV.
Launched in the US in July, 2020. ScreenHits TV is leveraging their impressive relationships with the industry's largest content players and streaming platforms to launch a full-blown aggregator for frustrated and overwhelmed consumers who, in spite of using three or more services, CAN'T FIND ANYTHING TO WATCH! Sponsored by Centriply @TVOTShow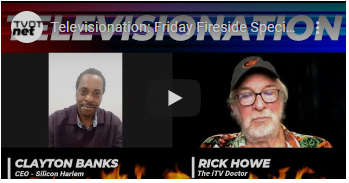 10. On this Special Edition of The Friday Fireside, our guest is Clayton Banks, Co-Founder and CEO of Silicon Harlem.
Clayton talks in detail about Silicon Harlem's mission: Community as a Platform, Infrastructure for Equity, and Humanizing Technology. That was a key focus at Silicon Harlem's 2020 Advancing Humanity Conference on October 16th at The Forum at Columbia University. Clayton was recently appointed to serve on New York City's NYCx Technology Leadership Advisory Council; their mission is to transform urban spaces into hubs for tech collaboration, research, testing and development. Sponsored by Centriply @TVOTshow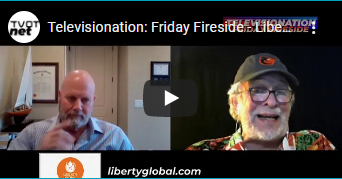 11. Take a look as the good doctor interviews Bob Greene, Managing Director of Online Entertainment at Liberty Global.
Among other things, Greene describes his work developing and managing partnerships with streaming services and other new media players; explains how Liberty Global has been able to respond quickly and effectively to the challenges presented by the Coronavirus/Covid-19 crisis; discusses the company's current business priorities; and outlines how it is preparing for the end of the crisis and the eventual global reopening. Sponsored by Centriply @TVOTShow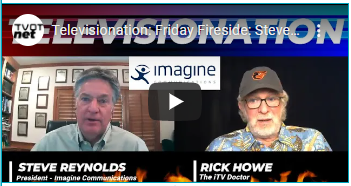 12. This week, the Friday Fireside welcomes Steve Reynolds, President of Imagine Communications.
Steve goes into detail about how Imagine Communications is handing the massive amount of video being consumed during the Covid-19 pandemic, and how the company is planning for the anticipated Q3 onslaught of television advertising. But perhaps more entertaining was the prognostication of a local politician shoving his Size 12 Florsheim directly into his mouth, and a presidential candidate scrambling to run a TV spot to replace the endorsement of said local politician. Steve describes Imagine's "xG Game Plan" as a way to anticipate and plan for such an eventuality; during our chat we simply called it "Whoops! What If?" Sponsored by Centriply @TVOTshow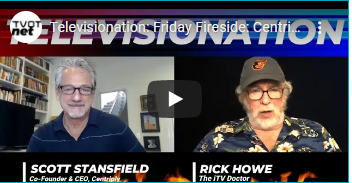 13. Spend some time with Rick and Co-Founder Scott T. Stansfield of Centriply, specialty media agency and tech developer leading the charge in the "Advanced Linear TV Advertising" space.
The television advertising industry is going to be flooded with "buy orders" in Q3, from retail, CPG, auto, travel and political organizations. Centriply successfully automates inventory to help media owners take advantage of that opportunity by helping transform linear-TV advertising time into large scale, advanced-advertising solutions. Sponsored by Centriply @TVOTshow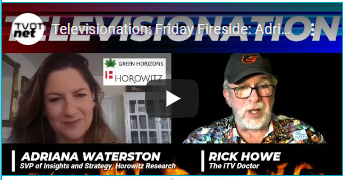 14. This week's HIGHLY enjoyable Friday Fireside features Adriana Waterston, SVP of Insights and Strategy for Green Horizons Insights, a division of Horowitz Research.
Adriana shared highlights from their study, "Cultivating the Cannabis Market," which reveals that 39% of US adults--82 million people—are regular cannabis users! And, as promised in the interview, following is Alice B. Toklas' recipe for "Haschich Fudge" from her 1954 cookbook. These are more like fruit and nut bars, which makes us think that if Christmas Fruit Cake was made with this recipe, it would be a LOT more popular! Note, in particular, the last line of the recipe. Sponsored by Centriply @TVOTShow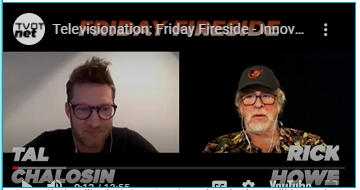 15. In this episode, Rick is joined by Tal Chalozin, Founder and CTO of Innovid.
Right off the bat, Tal shares the secret of making his hair stand up like that! Rick has an alternative explanation at the end of this 13-minute video. Tal reviews Innovid's success as one of the largest (if not THE largest) video ad-serving technologies in the United States and the world, and describes his job now as business development and partnership activities at a very high level, along with new product initiatives. Innovid is helping marketers answer the question, "How many households am I reaching, and what is the overlap between all the different networks?" Rick recalls a conversation about television tracking and measurement with Tom Freston (when he was CEO of MTV Networks). Tom said, "I just want to know who's watching my stuff!" Tal also talks about the "rebound" of the media business, and how some verticals will take longer to rebound, and others will be ready to move quickly in the third quarter, with an absolute focus on performance over vague measurements. Sponsored by Centriply @TVOTShow