Welcome to the newest article and video from the Advanced TV experts at Centriply! We've created this shareable content to help your team better understand why Advanced TV (ATV) is a critical component of a reach solution for your media plans, and why skipping it means leaving an important marketing channel—and a sizable chunk of prospective reach—untapped.
That said, we find that ATV is sometimes misunderstood and can even be a bit tricky to explain. So we're deconstructing the ins and outs of ATV to help it make sense to, well, anyone, while you focus on all the other stuff, like campaign goals, creative, budgets and so on… Please share this article and the video far and wide, and let us do the explaining for you!
So, what is Advanced TV (ATV) and what are the benefits of ATV in a media plan?
Media campaigns have many layers, and using ATV to extend campaign reach beyond basic age/sex TV demos adds impactful frequency. ATV is planned to reach custom audiences, our partners at Claritas PRIZM® Premier have great audiences if you need one. The same audience segments can be used across all media channels with location-based reporting, in premium content and includes the ability to do outcome measurement for ROI. A bonus of ATV campaigns is that they provide detailed impression delivery that goes far beyond the limitations of traditional local and national reporting.
Not in the mood to read about Advanced TV and its incredible value as a reach solution? Watch this short explainer video instead!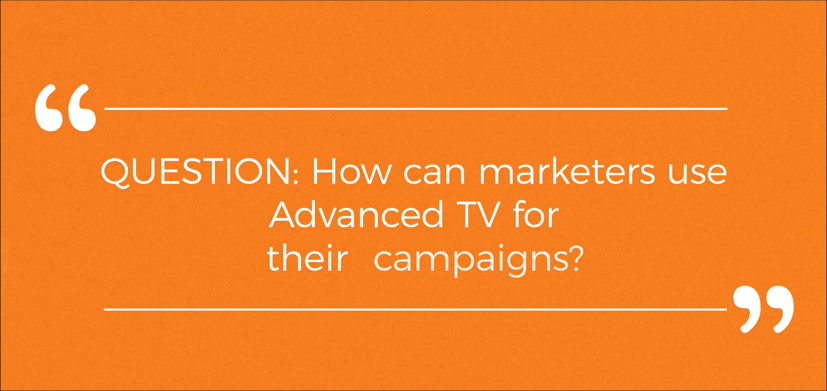 Help me explain that allocating media budget to Audience-driven Advanced TV (ATV) campaigns is a smart investment?
We get it. Using any media channel that your client hasn't used before—or lately—or much—can feel really risky, even when we know the upside potential is…really big. That's why we're sharing this content— to make it easier for you to get those who need to say "yes" onboard.
But first... TV has changed—a lot!
Enter: Advanced TV ad campaigns. These are 1. audience-driven and 2. location-based campaigns that go granular in their delivery, measurement, and impression reporting.
Marketers can use audiences, focusing on your own high value customers or choosing from thousands of audience profile segments. With Centriply you could choose from Claritas PRIZM® Premier syndicated audiences, at no extra cost.

Plans can be produced for any kind of location, like households, counties, ZIP Codes, states, or within a custom trading radius, as some options. Not relying on traditional TV DMAs for geography makes plans flexible and accurate.
Planning/buying a TV ad campaign using audiences (including the same segments you use for other/digital campaigns) is simply "table stakes" in ATV today. Using audience data based on attributes like demographics/behavioral/geography—vs relying exclusively on the overly generic demos of the past—means audience-driven TV ad campaigns can be easily focused on the audience you want to reach, with minimal wa$te.
Just remember:
The same audience data can be ingested for ATV as other media channels—no additional work is needed by you.

Once a campaign has run, granular attribution to that audience, also known as campaign outcome measurement, can be reliably done at every level of that infamous 'marketing funnel'. At Centriply we do this at the ZIP/Household-level--read more about "Unlocking the Benefits of ZIP Level TV Attribution" on this blog, where we take a look at how and why that delivers a detailed picture of your campaign results.
There's plenty of control over where/when your TV ad runs. There are multiple variables that get considered relative to ad placement and reaching your desired—or priority—audiences, where the best ratings are, across more day parts and many networks. Which means you have more options that work for your budget, along with reliable brand safety in knowing where and when your ad runs. Having the flexibility to look for the best options in more places improves the measurable value delivered, too. Technically it's called non-sequential elimination--but we call it good media value.
If a brand has been around the block a few times, audience-driven ATV can extend campaign reach into untapped audiences/areas, managing frequency for breakthrough messaging effectiveness, boosting reach from campaigns running via other channels.
Our data shows that ATV campaigns thrive with mature brands looking for specific audience segments that live in high concentrations (versus a "spray and pray" approach using generic demos and broad DMAs).

Finding focused pockets of priority audiences for mature brands that have important sales potential but have eluded less focused campaigns is one of our important specialties, and simply cannot be replicated in other channels or by using programmatic methods. We would be happy to show you some case studies about this.

But how does that work? We use a combination of proprietary tech and staff experts to pinpoint—in part using maps and breakdowns to the ZIP/census levels--the 'best' audience for a campaign based on RFP goals. Bonus result from doing this? We can also tell you where it may not be worth your budget. Yes, we do that with advanced TV.
Let your TV ad budget tell you something
Post campaign, the question to ask is "How'd we do Coach?"
One way to tell is with reporting measuring results against impressions delivered. We'll explore attribution in advanced linear TV in more detail in future posts, but for now here are some other ways to look at business outcomes:
Measure (improved/increase of) brand awareness
Measure ZIP Code-level ad performance against sales (particularly for retail/brick & mortar)

Why is that an important measure? So, you can "speak the language" of customer behavior, timed during/after a TV campaign runs. For example, many retailers have extensive compilations of customer shopping data, so purchase/delivery patterns at a ZIP level can be easily compared with impression delivery during the campaign run. This creates a great picture of where the campaign drove sales—instead of translating from a standard TV DMA-level, which doesn't match to anything!

Measure mid-funnel activity, like increased foot or web traffic (yes, you can, with Centriply's Advanced TV solutions)
OK, you've helped your client understand why Advanced TV is an important media channel, and they're interested…what next?
Hey, this ATV thing really works! Get your commercial ready, approve the audience*, budget and timeframe. Then give it a try!
*Still not sure about the whole "audience" thing—which data to use, have audiences but want to tweak, have audiences and want to test, have no idea where to start and need help figuring out a good audience and…and…and?? Look for an upcoming post, How Do I Choose an Audience, that covers everything you want to know about audiences. Or just ask us—we're here to help!
Lastly, if your client/cohort is "ready-but-not-quite-ready" to jump into ATV, you have two options to make sure business opportunities aren't lost:
Share

this or any other articles from this blog,

this video,

or any content from our YouTube channel, as we continue to illuminate ATV and its nuances, so you can stick to what you do best, while they learn more and get comfy with ATV as a must-include media channel. OR

Skip

the self-directed learning and contact Rich Kaufman at Centriply now to get your questions answered asap. Prefer a phone call? Reach Rich at

(917) 806-5924

).He'll help folks understand that there is extraordinarily little risk—and lots of reward—using audience-driven Advanced TV campaigns. And if it's not right for you he will let you know that too. Let's get started!