In case you missed it: On a recent episode of the Friday Fireside with The iTV Doctor Rick Howe, Centriply had the honor of hosting Erica Schmidt, Global CEO of Matterkind, the advertising technology unit of UM. Erica and the good Doctor had a candid, unscripted conversation covering a range of ideas, kicked off with a cameo by Erica's adorable dog--a now standard video call visitor we can all relate to!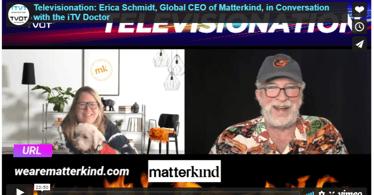 Erica chats with The Doc about how Matterkind offers an expanded and enhanced suite of addressable activation solutions and advisory services; leading by taking a people-first and ethical data use approach to engaging audiences and driving meaningful business outcomes, both across and within media channels. Erica also talks about bravely launching Matterkind two months into the Covid-19 Pandemic (!!!!) "Imagine launching a new entity, and a new brand, and a new proposition, and a new set of capabilities two months after the start of lockdown in a global pandemic. It was not easy." We say bravo, what a gutsy move.
When asked about the kinds of modifications she and her teams had to make because of the sudden changes in the world, Erica notes that "first and foremost we had to be mindful of the well being of our employees...within 24 hours [of lockdown orders] we made the decision to close our offices and everybody was work from home...everyone did an exceptional job of pivoting, not missing a beat...[and] found ways to be as nimble and responsive as possible to help our clients pivot...as always, we think it's exceptionally important to ground decisions on data and facts and science..."
She goes on to discuss how Matterkind helped clients find new solutions in a rapidly and constantly changing environment, emphasizing how their AI-fueled optimization engine allows advertisers to pivot as needed, evaluating and reconfiguring their ad strategies to increase the impact of their campaigns. "We spent a lot of time helping clients understand how to direct their spends." In a year that saw focus on literal day by day developments, that learning, applied to the longer view, continues to prepare clients, and the industry, for rapid growth through 2023 and beyond.
At the time of the launch of Matterkind, Erica spoke about the impetus for the new brand: "We are at an inflection point. There has never been a more important time to drive efficiency and effectiveness in marketing. We're focused on the true potential of addressable activation and enabling growth opportunities on behalf of our clients."
"Marketers use a broad range of tools to capture data about their customers and prospects. Clients are increasingly looking for solutions that unify this fragmented data to inform audience-first media activations across all addressable channels, in real-time. That's what Matterkind can deliver," said Philippe Krakowsky, Chief Operating Officer, IPG.
Hear Erica and The Doctor discuss handling the challenges and finding opportunities for clients amidst a crisis--and more--in the full interview (video above).
Follow Centriply on LinkedIn. Meet us and learn more about Centriply here.
Connect with Matterkind on LinkedIn, Twitter, Facebook, Instagram, or visit: www.wearematterkind.com
Check out all the iTV Doctor's interviews on Televisionation: thetvoftomorrowshow.com/frontpage @TVOTshow #Televisionation
Follow the Rick Howe on LinkedIn or Twitter: @rickhowe or listen on Amazon Audible: https://www.amazon.com/Televisionation/dp/B08JJSKCRR
https://thetvoftomorrowshow.com/video/televisionation-erica-schmidt-global-ceo-matterkind-conversation-itv-doctor