Rick Howe takes a fresh look at some notable chats with media insiders,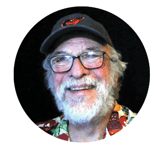 revisiting the scoops, predictions, trends & flops--from a decidedly new vantage point.
Check in weekly for the latest media insider chat with Rick Howe on the iTV Doctor's Friday Fireside, Fridays on the TV of Tomorrow Show, sponsored by Centriply.

Oops, He Does it Again?
When I spoke to CuriosityStream CEO Clint Stinchcomb (October 2020), he said this about founder John Hendricks: "[he] has always been a guy who can see around corners" in the media and entertainment space. No kidding! Hendricks smashed the doubts of more "entertainment-focused" industry execs (like me) back in 1985 when he founded Discovery, and again when he left and launched CuriosityStream in 2014. Between the recent SPAC-financed public offering, app inclusion on PlayStation 4, and subscriber growth of 28%YoY--he's doing it again, according to Stinchcomb.
Watch it: https://youtu.be/FYgDwtQCYWA
Best SPAC-Induced Hairdo?
When Innovid's Tal Chalozin was my guest for a Friday Fireside back in April 2020, I thought grappling with the Covid-19 Pandemic was making his hair stand on end! Nope. That wasn't it. Turns out it was probably the initial wind gust from Innovid's plans to go public in a SPAC Merger--valued at $1.3 billion (yes, that's Billion)--expected to close Q4 21. That explains it!
Watch it: https://youtu.be/7XejFFFQ56w
Missed Business Opportunity?
I interviewed Adriana Waterson from Green Horizons (July 2020) about her study "Cultivating the Cannabis Market." We discussed how perfect Anheuser-Busch's "Bud" brand would be for the nearly 40% of adults who are current cannabis users. A year later, after losing key marketing and distribution executives to pot retailers in Canada, A-B is still trying to revive a moribund beer business with seltzers, cocktails, mixed drinks and CBD-infused beers (Canada- only). Apparently, This Bud's NOT for you!
Watch it: https://youtu.be/UFJrrgiYeWQ
Most Ironic Media Strategy?
Back in November 2020, my Friday Fireside guest, Evan Tracey, SVP at National Media, and I reflected on media effectiveness on both sides of the 2020 presidential campaign— including The Lincoln Project's spend of upwards of $25 million on Fox News in DC only. The ads were designed to get under Donald Trump's skin and influence the national press--who re-distributed the ads at no charge to The Lincoln Project. It worked--most of us saw those ads on Twitter and Facebook!
Watch it: https://vimeo.com/481420685

Oscar-Winning Documentary?
In late-March 2021, I recorded an episode with guest Ellen Windemuth, Executive Producer of the Oscar- nominated Documentary "My Octopus Teacher". That episode didn't air until April 23, two days before the Academy Awards broadcast. But full- disclosure: we may have privately shared the show with a couple of, ahem, industry insiders in early April. Did the growing popularity of the Friday Fireside impact the final vote? We'll never know for sure…
ROUND OF APPLAUSE: "My Octopus Teacher" won the Academy Award for Best Documentary, 2021!
Watch it: https://thetvoftomorrowshow.com/video/televisionation-friday-fireside-
%E2%80%9Cmy-octopus-teacher%E2%80%9D-executive-producer-ellen-windemuth
Um . . .?
When I booked Crackle Plus President Philippe Guelton on Friday Fireside (April 2021), I didn't anticipate he'd bring his friends from Mystery Science Theater 3000 (MST3K) along. Now, Philippe is an accomplished TV exec, but turning a portion of the schedule over to the likes of Tom Servo & Crow T. Robot? Those mechanical knuckleheads sure are Chicken Soup for The Soul for…somebody (like the 36,000+ folks who raised millions on Kickstarter to make new episodes—and want to build the Gizmoplex?)
Watch it: https://youtu.be/FYgDwtQCYWA
More Money ≠ Media Success?
As Patrick Donoghue pointed out, Apple earns enough just from COMMISSIONS in their App Store to be the NEXT buyer of Warner/Discovery! Despite numerous legal, governmental, and regulatory challenges, Apple's war chest continues to grow and their business model has outlasted rivals. Nonetheless, Apple continues to misunderstand the TV industry, miscalculate targets for Apple TV+, and generally miss the boat in terms of media and entertainment. Perhaps when you're as big as Apple, you don't have to be the smartest (or right)?
Watch it: https://vimeo.com/555871486
Life After Television?
After a long career on the operator and programmer sides of the TV business, Julie Simon ditched the 9 to 5 for a (probably) 6 AM to Midnight gig making truly astonishing cakes for LA's rich and famous (images left, all edible!). "I always wind up doing something more in the final piece than I had in the proposal, but what that will be is left to serendipity." Sounds a lot like the TV business to me!
Watch it: https://youtu.be/fFzIIeZ1ubE