---
CONNECTING TODAY'S LEADING MEDIA PUBLISHERS, AGENCIES, ADVERTISING BRANDS, AND TECHNOLOGY DEVELOPERS
What a great way to wind up 2016 with digital insights from Premium Programmatic 360
One of our highlights of 2016 was attending Sonobi's Premium Programmatic 360 marketing and technology networking event presented by @Sonobi and @Fastcompany which focused on people-based marketing as well as the changes in the digital media buying industry. Changing trends were evenly matched by the dynamic feel of the event location, a hip downtown art space in the heart of Hell's Kitchen. As Sonobi says, "Anyone can make an impression, that doesn't mean it's good" – but theirs was! The afternoon included a host of panels as well as the appearance of Sonobi's "Bro-bot" who whimsically represented the way media has been operating in the past. The space was filled with professionals ready to hear some of the top ad-tech industry leader's insights on the evolving media landscape. The afternoon included panels of industry experts and innovators covering a wide range of topics, including:
-Impressions to People: Setting a New Standard for Paid Media
-People-Based Audience: The Difference is in the Details
-People-Based Media vs Publisher Tech Stack
-Bid vs Buy: Programmatic Needs to Evolve
Bid vs Buy: Programmatic Needs to Evolve
The closing session of the late afternoon was The Bid vs Buy panel hosted by Tony Katsur, President of Sonobi which discussed where the ad-tech industry needs to invest across multiple channels and screen formats to drive greater brand ROI while creating value for media companies. The RTB infrastructure in digital is evolving for both the sell side and the buyers and the panelists explored where streaming, digital and linear TV is going, both in technology and scale. Keeping up with consumer consumption on all screens was paramount as video becomes TV and TV goes everywhere. These leaders saw the value of combining all elements of the media stack and making it accessible for the marketer. Yet they all acknowledged it was not an easy thing to achieve.
The Bid vs Buy segment was moderated by Tony Katur (shown below), President of Sonobi, whose deep experience in the ad tech sector covers strategy, delivery of product, and infrastructure perfect for guiding the discussion.

The panelists included:
Neil Fried, VP, Strategy & Corporate Development, Acxiom, whose responsibilities of tracking emerging trends and keeping the pulse on market dynamics make him an expert in the digital and tech industries.
Nick Macshane, Founder & Senior Managing Director at Progress Partners. Positioned as the "Entrepreneur's Investment Banker" Nick has significant transaction experience from both sides of the table, which allows him a compelling and clear view of where markets and opportunities exist.
David Danowski, VP, Digital Pricing & Planning at Fox Networks Group brought the understanding of large scale organizations, how they tackle burgeoning areas for development and the complexities of unifying various departments.
Robert Schneider, Managing Partner, Head of Partnerships & Corporate Development at GroupM. The description of Rob's title reflects his extensive change management experience, with everything from global legal affairs, to proprietary media product offerings.
The discussion delved into the importance of RTB in today's media ecosystem but also the need for advertisers and suppliers to look at RTB as just one piece of a bigger, more complex puzzle. Our partners at Progress Partners had great insights on where the future of TV is heading and how automation plays a key role in its success. When asked about the next frontier for the investment community Nick Macshane, responded that data-driven TV is where the industry is headed.
The evolution of digital and traditional TV
Sonobi's people-based approach combines digital programmatic technology. Now ad-tech doesn't just serve impressions to the masses but identifies and makes an impression on the right audience. As many advertisers and marketers have seen, the ad industry is witnessing a shift from traditional, impression-driven models of advertising towards a more intuitive, synergized people-based approach. The classic impression based model has to be updated to allow marketers to deliver precisely the right message at the right time to the most targeted audience. As mentioned by Tony Katsur during The Bid vs Buy panel, "Strategy is easy, execution is hard". The concept of such precise targeting may sound simple, but it is very complicated in practice. With the recent advances in digital programmatic technology, the ability to track consumer behavior and target an advertisement to specific audiences has become exponentially easier.
Identifying audiences is at the heart of people-based marketing. When looking at digital, programmatic software plays a pivotal role- it now allows marketers to have more accuracy when requesting distinct types of audiences and fulfilling their specific needs. Not only does programmatic technology create a direct market for audiences depending on their views and click rates, it also establishes a connection between agencies, brand and publishers. Finding the perfect mix of mass automation and personalization is the most important factor when addressing an audience.
So enough about digital, let's talk about TV
The use of programmatic technology has begun to disrupt the way TV ads are bought and sold. In the past 10 years traditional TV has been pushed to evolve to the changing media landscape. Dynamic Ad Insertions across media platforms, including TV is just one indicator of how linear TV and digital have already started to converge. Looking forward, traditional TV, Over-The-Top and digital will be effectively layered in the media stack for a full size solution. As was mentioned in the session, "we are only in the first inning" of where the cross-screen game will be played out.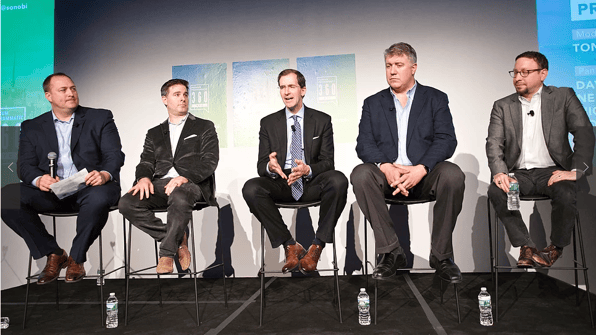 Tony Katur (from left), President of Sonobi
Neil Fried, VP, Strategy & Corporate Development, Acxiom
Nick Macshane, Founder & Senior Managing Director, Progress Partners
David Danowski, VP, Digital Pricing & Planning, Fox Networks Group
Robert Schneider, Managing Partner, Head of Partnerships & Corporate Development, GroupM
Sonobi understands the demands of publishers and brands and is focused on creating hands-on technology that centralizes the process for all sides of digital impressions. By including Progress Partners with this extraordinary group of professionals their experience in banking, venture capital, tech startups and Fortune 500 companies can help others find their way. It's a privilege to be associated with a company that has the unique ability to recognize characteristics that are inherent in the strongest companies in the market.
Connecting TV and Video
The team at Centriply appreciates the effort to enable media transactions against individuals. Like them, we have built a platform that enlightens every stage of the video stack with rates, maps and detailed data sets built from the Census block up. This independent, national view can identify TV audiences via highly targetable individual cable, satellite and Telco service areas. Centriply builds value and finds advantages with research that provides quantitative, qualitative, as well as psychographic data. By combining the data from two of our partners, Cambridge Analytical and Experian we can target custom audiences across the entire country. But, for all this technology people are still our focus.
---